The beloved star of Back To The Future – Michael J. Fox – has just announced devastating news for him and his family. The actor has lost his loyal dog, Gus, at twelve years old. Gus was a gorgeous Great Dane-Labrador mix that had been with Fox through all the ups and downs of the last twelve years, and now he is going to have to cope without the amazing dog by his side.
"Gus — great dog and loyal friend, we'll miss you," the actor wrote to his one million social media followers. In addition to the adorable image of Gus and the caption, Fox also wrote: "NTLTF p. 220-222," which was a page reference to the actor's new book. His memoir was released in 2020 and is entitled "No Time Like The Future: an Optimist Considers Mortality.
In his tome, Fox describes Gus as his "wonder dog," because he was a loyal companion who knew how to bring a smile to people's faces. Gus was also by Fox's side as the man battled through his diagnosis of Parkinson's disease, which has been a very public fight for the last few decades.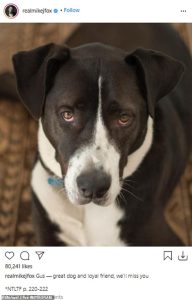 Fox wrote in his memoir about Gus. He made it very clear to his readers that Gus added a lot of value to Fox's life and that now that the dog has passed away, he will be sorely missed because Gus was a valuable member of the household family.
"I didn't rescue Gus. You can argue that he rescued me, but he'd be too modest to make that claim," Fox wrote in his memoir.
As recently as November, Fox spoke about his relationship with his dog, Gus. Fox claimed that if it were not for Gus's constant affection, he would have felt more "isolated" during his health battle with Parkinson's disease. Fox went public with his health struggle back in 1998, which means he has been publicly fighting Parkinson's disease for more than two decades.
"You know that no matter your situation, no matter what you feel, this animal is with you and is connected to you. And you feel. It's a force multiplier," Fox said. "Your instinct when you have a chronic illness is to sometimes isolate and make your world as small as possible, so you don't have much to deal with, but a dog will open you up."
Fox was recently spotted walking through New York City with the help of his trusty cane. Gus also helped Michael J. Fox relearn how to walk after he went through surgery in 2018. The surgery was needed to help him remove a tumor that was lodged in his spinal cord. After the surgery, Fox needed a wheelchair, but Gus helped him get back on his feet.
"He kind of circles the wheelchair with this low kind of woof woof, woof woof, and sat in front of the wheelchair right in front of me. And he looked at me, and I said, 'It's going to be okay.'"