After hitting multiple people with his car, a crazed man was pulled over. Instead of complying with the female officer, however, he viciously attacked her. He had her on the ground and went for her gun — that's when he got hit with some instant justice he never saw coming.
Gary Coslovich was weaving in and out of traffic along I-80 in Fairfield, California, on a Saturday morning when he smashed into two cars going 80 miles an hour, causing those drivers to spin out. Eventually, he drove over to the shoulder when a California Highway Patrol (CHP) officer pulled him over, but when Coslovich saw it was a female cop, he flipped out.
Coslovich began beating the officer along the shoulder of Interstate 80 westbound in American Canyon before witnesses say he reached for the officer's gun. That's when two onlookers, unknown to each other, decided it was time to intervein.
Joel Jones and his wife Annalisa, who runs a church called Spirit of Truth Church Worldwide, had seen the havoc Gary Coslovich had been wreaking in his car before being pulled over. They had decided to follow the erratic driver. Then, they witnessed his heinous assault on the officer.
"[The suspect] punched her, hit her repeatedly, beat her to the ground and started stomping her," Jones, a 61-year-old retired San Francisco County sheriff's deputy who played football for Drake University, recalled. Although he didn't know it at the time, he wasn't the only one who saw what was happening.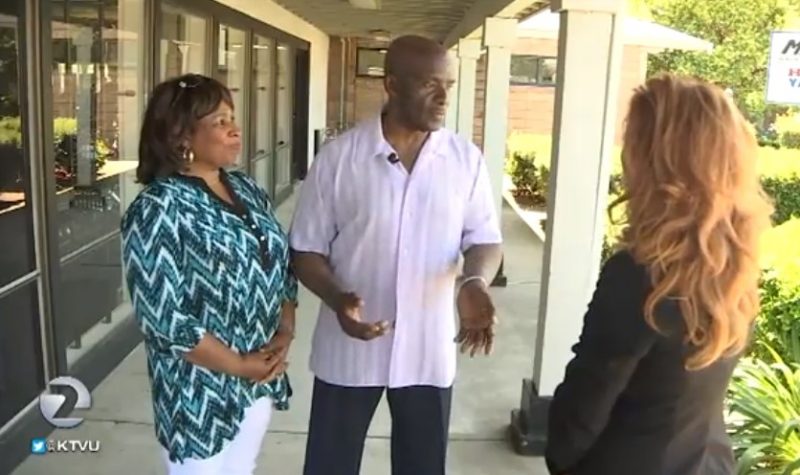 "[Gary Coslovich] was like, 'No, No, I'm not doing this!'" said Joel Jones, who is the pastor of the church in Crockett, throwing his hands up. "It was surreal, it was like I was about to see a murder in front of me … what are you going to do about it?" he recalled, describing the moment he says Coslovich savagely attacked the officer.
"I thought he was going to take her gun," Jones explained, according to the NY Post. "He was at her waist midsection. I told my wife, I said, 'Stay here,' and I said, 'Lord be with me.'"
"I saw her crawling and then I saw her trying to get up and so I said is this really happening?" recalled Annalisa Jones. As his wife prayed for the officer, the pastor relied on his skills as a former college linebacker and retired cop to knock the suspect clear off his feet, five feet away, Fox 2 reported.
That's when Greg Bunting, a 52-year-old motorcycle mechanic, jumped in to help. "It's hard to see a woman hit by a man," said the father-of-two who happened to be driving by at the same time and also stopped to help the CHP officer. "To see that was — there's no words to describe it except for it was sick."
The good Samaritans were able to hold Gary Coslovich down until backup law enforcement arrived and took him into custody. He was charged with assault and battery against a peace officer. Sadly, he's no stranger to law enforcement.
Coslovich was fired from his job as a painter for Santa Clara County a month prior to this incident and accused of ramming his truck into a county building. Thanks to two brave men, this menace was finally thrown behind bars where he belongs.