When it comes to roller coasters or drop-dead rides at amusement parks, oftentimes it's a no-brainer to want to be thrilled about the experience. Something always feels a little comforting knowing there's a person at the controls who's managing the ins and outs of the ride. But bridges that are built over scenic landscapes that have jaws wide open when even considering a walk across? That's an entirely different animal. Such is the bridge located in China. Known as the Ruyi Bridge, the structure is built entirely of glass, which makes it even scarier for those willing to cross it on foot. The bridge weaves and winds 460 feet above an enormous ravine, and anyone who attempts to take the journey from one side to the other appears to have a solid level of risk on their hands, or lives, as it were. Seeing as how the videos and images of the bridge went viral on social media and news outlets who want to publicize the terrifying double-decker structure, everyone became interested in wanting to cross it.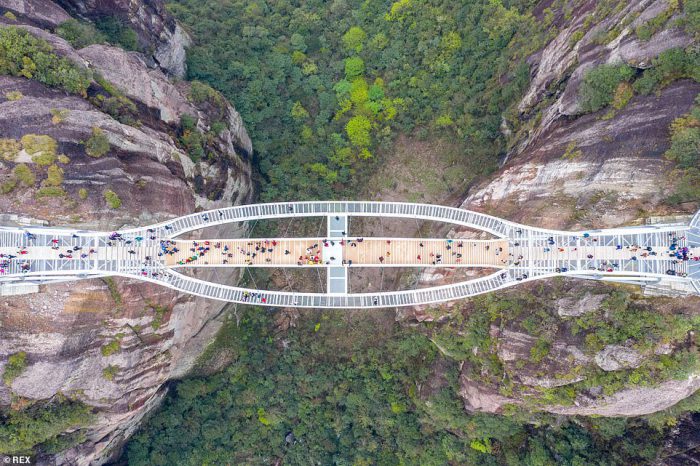 Some folks on Twitter were creating a hashtag that the pictures of the creative bridge were fake, while others were questioning whether they'd fly over to China and make the voyage across. This scary innovation is in the Shenxianju Scenic Area in Xianju county, and it received its name as it is shaped like a jade Ruyi in the sky. Although the aerial footage of the Ruyi Bridge has attracted many tourists in this eastern China Province, it wasn't until the photos were seen on YouTube in November of 2020 that brought such an interest in how this particular sensation can possibly be traveled given how scary it looks. Designed by He Yunchang, the bridge's intention was to BE a thrill to anyone brave enough to cross the 100 meters' long glass structure. But one thing's for certain, the innovative designer was also instrumental in creating Beijing's Bird Nest Stadium for the 2008 Olympics. If that doesn't tell you something about the artistic mindset of Yunchang, nothing will.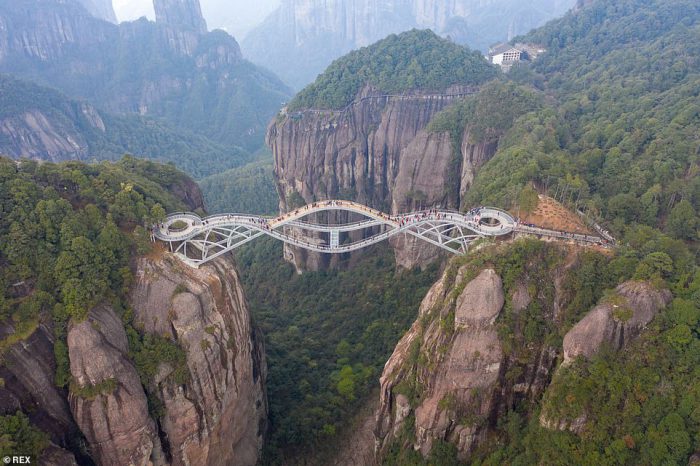 Another factor to think about is if you're deciding whether to make a trip to this region of China to be one of the courageous souls who wants to cross this bridge, the Ruyi structure is one of the highest and windiest bridges in the world. When it finally opened in September of 2020 the number of visitors had already surpassed 200,000, which goes to show that the interest levels are rather high in making the scary trek across. But not everyone who has witnessed footage of the glass bridge is convinced it's safe. There's been numerous comments and responses on all social media platforms that offer a solid "NO WAY" does that looks appealing or inviting or safe. And of course, the mere fact it's made in China and located in that particular country elicits even more negative feedback to the American public, which is always telling in and of itself. One thing's for certain though, anyone who wants to experience a level up from Disneyland or amusement park sensational roller coasters? The Ruyi Bridge in China is it.